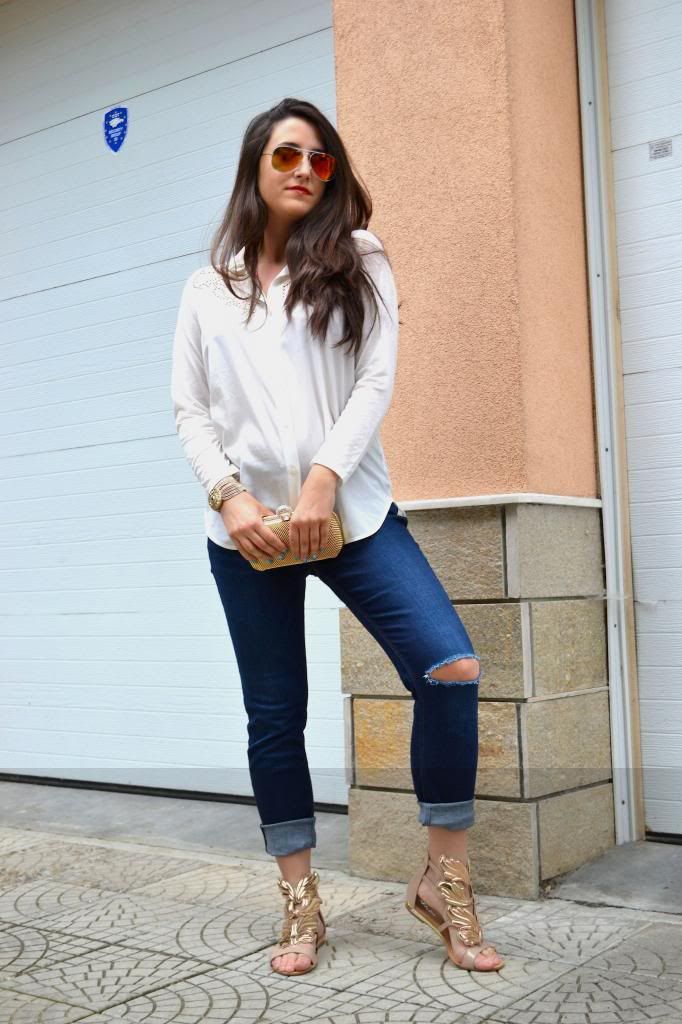 Focus on: Casual chic outfits
I love being elegant, really I love it, but there are days that all I want is to feel comfortable and casual chic. The best pieces to wear on these days are jeans, or shorts for summer, some oversized shirt or any t-shirt you feel comfortable with and of corse your most comfy and pretty shoes. I know that these sandals look like Giuseppe Zanotti's but they're not, anyway, I like the model and they're so comfortable.
The small gold clutch adds some elegance and chic to this outfit, but I really think that it looks good. And it's really practical if you only need your phone and money. I know, most of us girls, like to bring the whole universe in the biggest bag, but I really switched to smaller bags this season. One thing is that they're pretty and fashionable for this season, but you will be surprised how much things you can actually put in a small bag! Well, not in this clutch definitely, but the small black bag from
the previous post
is like Merry Poppins' bag :D people are really surprised by the things I bring in it. And moreover small bags are more comfortable to wear and not that heavy. I think, I'm becoming a huge fan of them.
shirt- H&M;
sunglasses- H&M;
bracelet- Versace for H&M;
shoes&bag- Michel;